Rückmeldungen von Gästen aus Bracknell – Bürgerreise 2016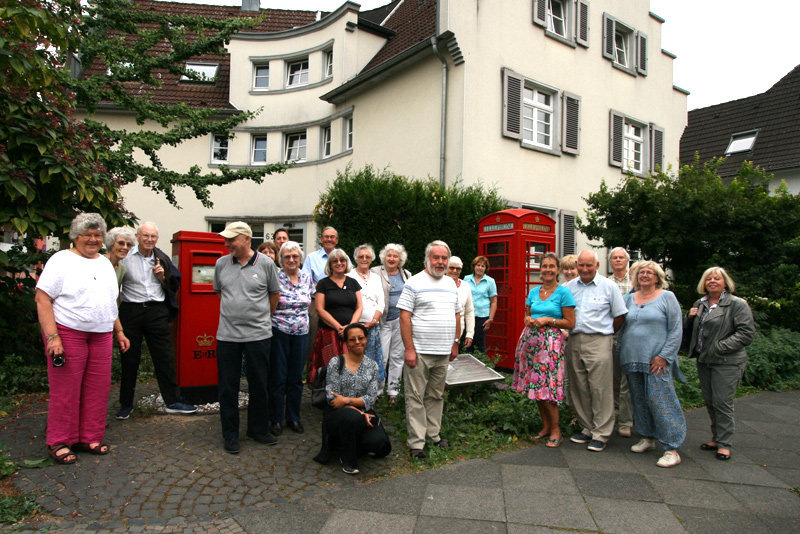 LevVisit 2016
---
"The whole trip has been fantastic." Penny
"We were impressed by how kind and thoughtful everyone was to us, especially to an elderley person who found walking dificult." Sheila and Derek B.
"Appreciated how very much alike German and English people are! Traffic problems are the same." Glenys and David K.
"Our biggest surprise was how concerned our hosts were about Brexit and the future – ours and theirs."
"Wonderful hospitality and friendliness. In spite of brexit – long may the friendship flourish."
"A most enjoyable holiday to a beautiful part of Europe made possible by the kindness and generosity of our German hosts and all the people working hard behind the scenes in Bracknell and Leverkusen." Rosemary Davison.
"The best part of the holiday was the hospitality of our hosts who treated us as members of the family and the trip to the historic city of Aachen."
"Many thanks to the Bracknell Twinning Committee for organising such an excellent trip that ran so smoothly. The members of the Freundeskreis Bracknell Leverkusen committee were amazing too: they planned a fantastic programme of trips, events and eating experiences."
"The cameraderie among the English guests and German hosts was lovely with lots of laughter – much caused by Freddy J's jokes! A true experience of friendship between nations which we would be well advised to continue through twinning." Gisela and John.
"My biggest surprise was accidentally ordering currywurst and finding that a combination of sausage and sauce we wouldn't dream of at home isn't so bad." Clive T.
Another example of why we need these twinning partnerships, bringing different people from other countries together in friendship can only be a massive bonus in these trying times." Freddie W. Jones.
"Surprising to see a refugee camp [integrated] beside a school and it was not causing any problems."